A.J. Russell was a pioneering photographer who made significant contributions to the history of photography. Russell began his career in the mid-1800s, and his work captured some of the earliest images of the American West, including Native Americans and landscapes.
Russell's collection of images is renowned for its vividness and detail, and his work has been featured in many publications and exhibitions. He was one of the first photographers to make use of the newly developed wet-plate collodion process, which enabled him to capture incredibly detailed images with long exposures.
His photographs were among the first to be widely circulated and appreciated by a wide audience, setting a precedent for future photographers to follow. A.J. Russell's innovative techniques and eye for composition helped shape what we now know as documentary photography, making him an important figure in photographic history.
Russell documented the development of the American West through his railway photography. His photographs captured the people, places, and events that shaped the history of this region. His images had an immense impact on how Americans viewed their own country and its potential for growth and progress.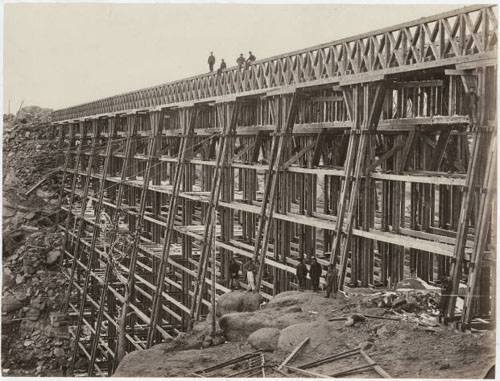 A.J. Russell's railway photography was particularly influential in capturing the development of America's railways out west during a period of rapid expansion in the late 19th century. His images were instrumental in documenting this period of growth and progress, making them invaluable to historians today. In addition to his railway photography, A.J.'s work also helped to document life in rural areas of America during this time as well as providing a unique perspective on how people lived and worked out west during this era.
Click to view 650 photos "from the"Wet Plate" negatives Oakland Museum – A. J Russell Railway Collection